Hours & Admission
Guided by the recommendations of state, city and county public health officials and the input from employees and members, the Fleet Science Center has developed a comprehensive plan to welcome employees, volunteers and visitors safely into the building.
---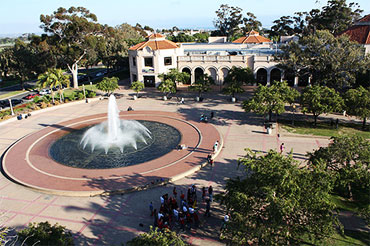 What's our schedule? 
The Fleet Science Center building is now open seven days a week! You can enjoy our exhibition galleries and films in the Giant Dome Theater all week long. Our schedule is Monday through Thursday from 10 a.m. to 5 p.m., and Friday through Sunday from 10 a.m. to 6 p.m.—giving you an extra hour for exploration on the weekends! No reservations required.
Stop by Craveology for a delicious snack and take even more of the science home with fun gifts from the North Star Science Store. 
---
Hours of Operation
|   | Sunday | Monday | Tuesday | Wednesday | Thursday | Friday | Saturday |
| --- | --- | --- | --- | --- | --- | --- | --- |
| Open | 10 a.m. | 10 a.m. | 10 a.m. | 10 a.m. | 10 a.m. | 10 a.m. | 10 a.m. |
| Close | 6 p.m. | 5 p.m. | 5 p.m. | 5 p.m. | 5 p.m. | 6 p.m. | 6 p.m. |
---
Regular Admission
*Kids ages 2 and under get free admission. 
---
What's new in our Exhibit Galleries?
Design is everywhere we look and in everything we do. You can create your experience with the Fleet in Design Zone. Our new exhibition uses hands-on activities to show how design concepts become real-world experiences in the arts, entertainment, and extreme sports. Get behind the scenes and create your own skate park, dance beat, rollercoaster, video game and more. Plus, all of your favorite experiences, including Kid City, Studio X, Illusion and our VR Transporter, are open with additional cleaning and with more space for a safe exploration.
---
What's playing in the Heikoff Giant Dome Theater?
Discover one of the rarest animals on earth, the fabled Spirit Bear, hidden from the outside world in one of the planet's most secluded wildernesses, in the Great Bear Rainforest. Follow the majestic, Australian green sea turtle Bunji, as she swims thousands of miles across the open ocean and has wild encounters in Turtle Odyssey. And, be awed by the amazing Ricochet and her friends as they save lives around the world in Superpower Dogs. 
---
How to get ready for your experience at the Fleet?
Ghostbusters have nothing on us! Increased frequency of sanitization with our hospital-grade Protexus Electrostatic Disinfecting Sprayers twice a day. 
Calling all superheroes—not all superheroes wear capes, but many do wear masks! Regardless of vaccination status, all visitors ages 2+, employees and volunteers are required to wear a mask or face covering while in the building to protect vulnerable community members, including our younger guests who are not yet eligible for the COVID-19 vaccination, and following current state, local and CDC guidelines for institutions that cater to families and children under 12.
Seek and you shall find! Some exhibits may be set up in different areas to provide more space for exploration.
The city that never sleeps is back! Kid City will be open for our 5 and under friends. Additional cleanings twice a day and sanitizing stations have been installed.
Reduce time standing in line, get your tickets online. While reservations are not required, you can bypass the ticket counter if you get your admissions online. Purchase your tickets now!
Treat yourself! Our Craveology Café and North Star Science Store processes have been updated in compliance with County public health restaurant and retail guidelines.
---
Learn more about our guidelines:
---