Annual SciTech Challenge Showcases Collaboration and Innovation
Image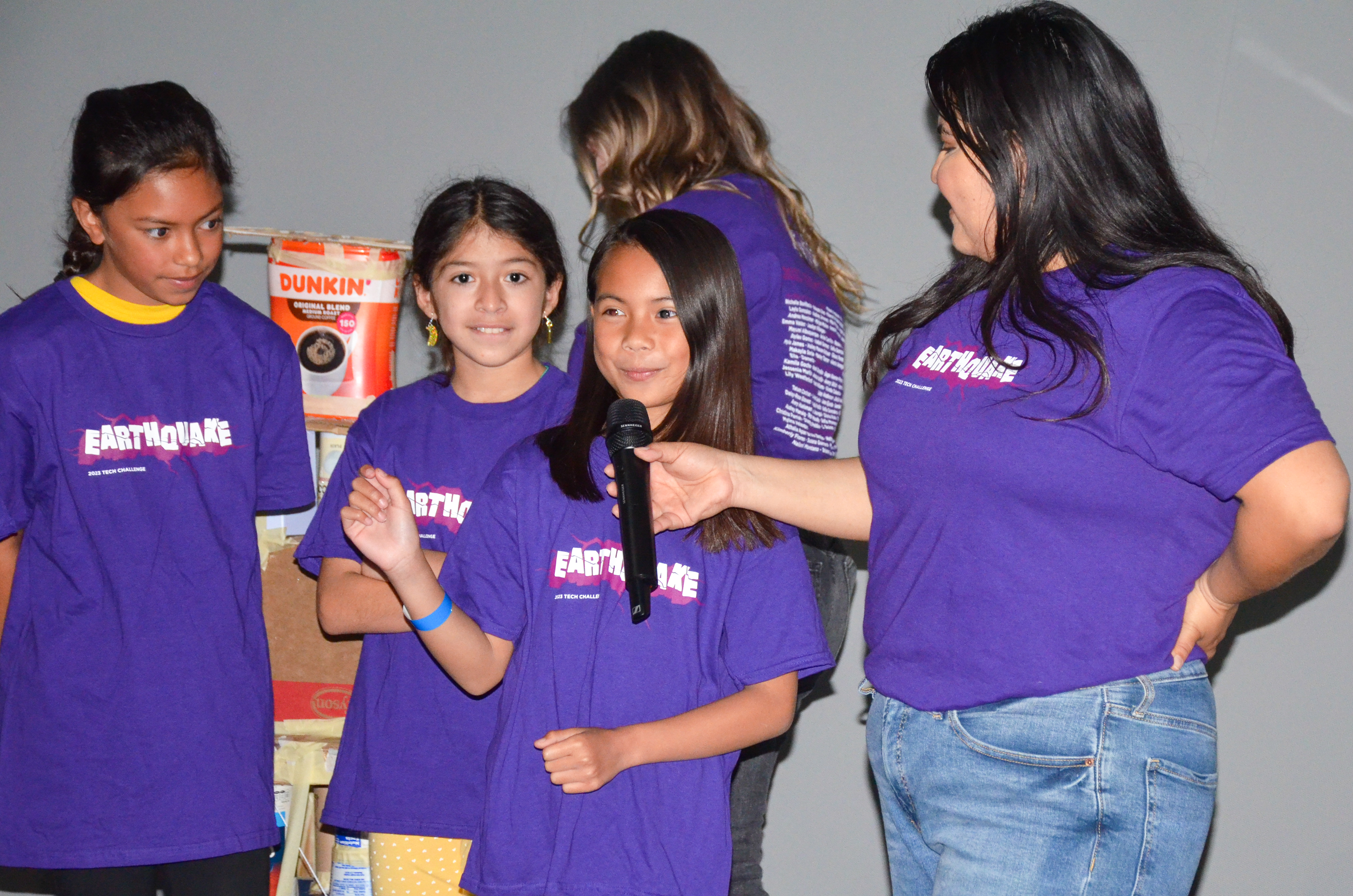 (Image above) Fleet Science educator Daniela Sanchez Cruz listens to a SciTech challenge team explain their earthquake-proof structure's viability.
San Diego County Girls in Grades 4–6 Experience the Importance of Problem-Solving, Community and Representation
Giddy anticipation mixed with a healthy dose of community collaboration filled the air on Saturday, May 6 as the Fleet Science Center hosted the SciTech Challenge in the Heikoff Giant Dome Theater.
The annual event, which is the capstone of the no-cost SciTech after-school program, saw 10 teams of girls in grades 4–6 from elementary and middle schools across San Diego County: Avondale Elementary School in Spring Valley, Logan Memorial Educational Complex in Logan Heights, Bostonia Global Campus in El Cajon, Bayside STEAM Academy in Imperial Beach, and Ella B. Allen Elementary School in Bonita. SciTech is one of the many important Fleet education programs that connects our San Diego communities to each other and to science.
"SciTech is all about bringing our community together through science and technology," said Sandy Valdivia, youth engagement manager at the Fleet and point person for all things SciTech. "Girls can get hands-on experience and explore exciting career options that align with their interests."
The teams this year focused on geology and engineering, through a project-based learning approach. The culmination was the annual SciTech Challenge. The teams built earthquake-proof structures, drawing on the knowledge and skills they developed throughout the SciTech program.
Key to the SciTech experience are the Fleet Science educators who facilitate the program: Daniela Sanchez Cruz and Madeline McClanahan. Both appreciate how the SciTech sessions, which met weekly throughout the 2022–23 school year allow them to build relationships with the students at each school and help the cohorts build community. "We really get to see the girls' growth week after week," McClanahan said.
A happy surprise in the program is another layer of community. Sanchez Cruz's former seventh grade science teacher at KIPP Adelante, John E. Greenwell, is now principal at Ella B. Allen Elementary School.
"The day I was introduced to the educators, I was so excited to see Daniela," Greenwell said. "It is so cool to see the full circle and see her working with our students to collaborate, build skills and solve problems together."
In addition to their role model educators, the girls get to interact with San Diego area women in STEM, who serve as judges for the challenge. This year's judges were Christine Stofko, senior manager of IT enterprise operations for Aya Healthcare, Sharon Zhang, CTO and cofounder of Personal.ai and Alexa Tralla, senior program manager, commercialization excellence at Illumina, Elide Pantoli, a civil and structural engineer and postdoctoral scholar at the University of California, San Diego. The judges not only assess the projects, but they also show the girls that STEM is for everyone.
"It's important that the girls see all the different things we can do with science and affect change in our community," Stofko said. She observed that challenge day reminded her of her science fair experiences. "Even as a 35-year-old woman, one of my proudest moments was a science fair when I was 11," she said, adding that the science fairs helped her see she could find a career in science.
Stofko also reiterated the importance of the girls being able to meet the judges. "Representation truly matters. Until you see that proof positive that women are scientists, it's not real to you."
The girls' families, too, are an important part of the SciTech experience. Sanchez Cruz noted that the girls take their learning home, furthering the community aspect. "They share with their families and friends the knowledge they gain so they all can develop new ways to explore the world around them."
The families see the girls' growth, too. "My daughter definitely feels a greater sense of confident and empowerment," said Christine Arellano, whose daughter was part of the Allen Elementary SciTech cohort. "She's more resourceful in advocating for herself since she's been doing SciTech."
The challenge itself also helped the girls see that they have agency. The teams were able to spend 30 minutes before the challenge putting final touches on their earthquake-proof structures, underscoring the importance of assessment and revision in project-based learning. The judges, too, gave reassuring feedback. Pantoli made sure to let the girls know that her advice and feedback was not criticism but tools to help them move forward to figure out solutions.
SciTech prides itself on being an affirming, community-building way to develop and maintain STEM talent in San Diego, Valdivia said. "This program helps our future leaders discover their passions while learning essential skills like engineering, teamwork, and problem-solving. Plus, families can join in on the fun and see what their girls have learned. At SciTech, we're building a stronger community, one scientific discovery at a time."
If you'd like your school to be a part of SciTech, applications are open until June 30, 2023.