STEM in the Community: Encanto
Image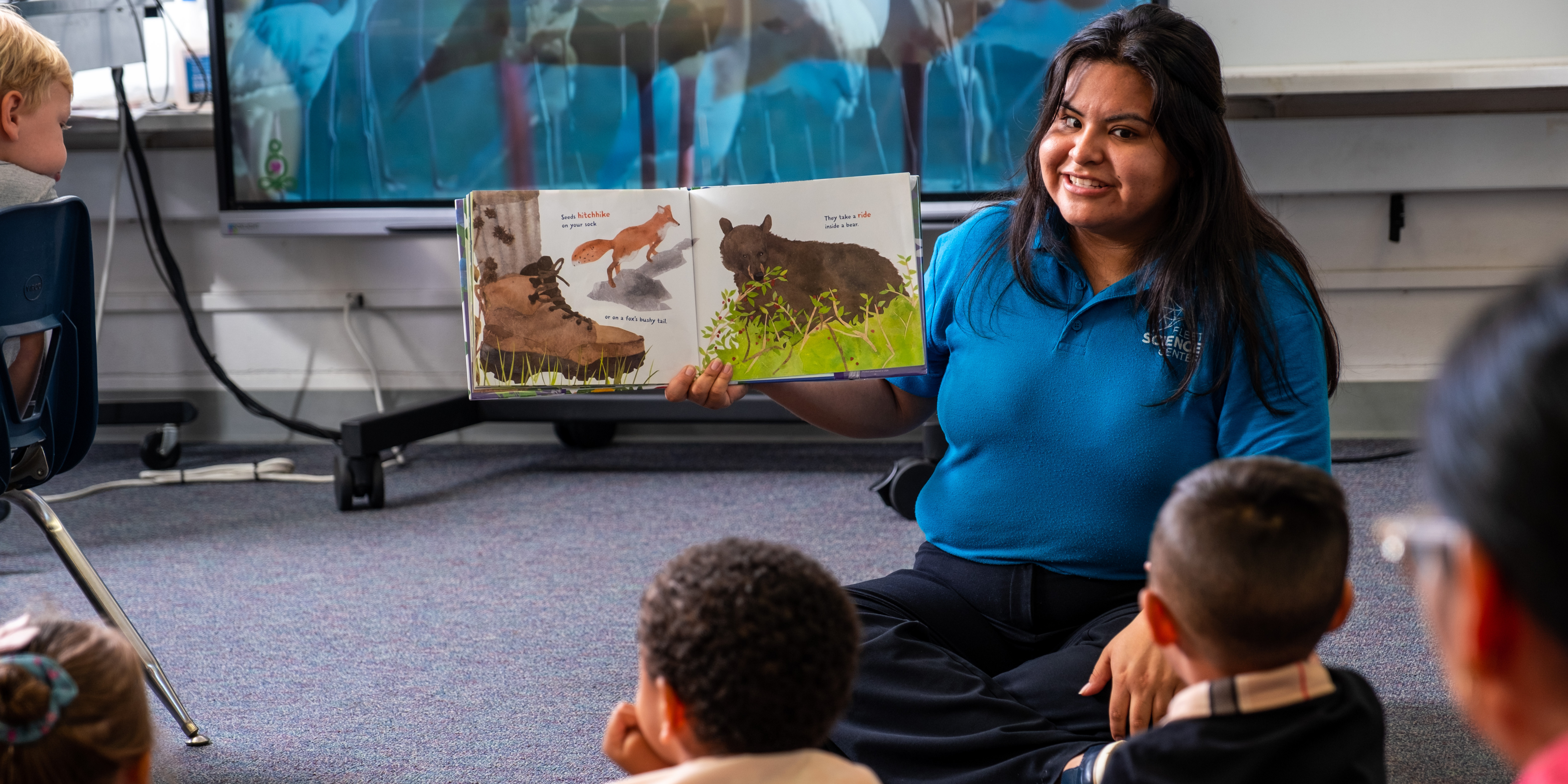 (Above image) Fleet educator Daniela Sanchez Cruz begins every session by reading a science-themed story, reinforcing that science and literacy skills are complementary.
The Fleet, Diamond Educational Excellence Partnership offer Science for Tots at Encanto Elementary 
In what might be the best of all education worlds, Science for Tots melds early literacy with science, technology, engineering and mathematics (STEM) learning. In fall 2022, the Fleet began working with kids ages 0 to 5 at Encanto Elementary School in Southeastern San Diego as an implementing partner with Diamond Educational Excellence Partnership (DEEP). The program aims to make sure that the tots are better prepared for kindergarten—and beyond. 
The five-week programs, offered throughout the academic year, offer weekly topics such as space, weather, engineering and oceans. Each session begins with a Fleet educator reading a science-themed story to cultivate good habits toward achieving the early literacy objective. The kids and their accompanying adults work together at four or five different hands-on stations.  
The Spanish and English bilingual sessions are designed for all the age groups. Activities focus on kinetic development for the littlest participants while an emphasis on working with others helps the older kids develop those important social, collaborative skills. 
A Fleet educator is there to guide, reinforcing inquiry-based learning by asking questions as the kids and their accompanying adults work through the activity stations. "This also helps the adults practice inquiry-based learning," says Daniela Sanchez Cruz, Fleet educator.  
A perhaps less obvious but important benefit is that Science for Tots gives parents and caregivers valuable time with their children. "They're able to connect with the kids in a different way," Sanchez Cruz says, adding that the adults often learn things they didn't realize about their kids, bridging the home-school gap. "One dad was so excited as he said, 'I didn't know my son was a talker,'" she adds.  
When asked what they find most valuable about the program, parents and caregivers surveyed state the importance of having that time with their child in an educational environment. "I love the quality time with my child and seeing her learn," one parent says. Others emphasize that the kids are learning while having fun.  
This blend of early literacy and early STEM education is a catalyst for continued learning and whole family engagement. "The Fleet Science Center brings our focus on literacy into exciting focus through their STEM workshops," says Rhianna Basore, director of operations and outreach for DEEP. "We love to see how enthusiastic our families are to play together using science as the spark for their curiosity. Our early readers get to apply their growing literacy skills and our parents feel supported as they learn the best ways to grow together with their kids. It's a win-win for everyone!" 
In addition to these bonding moments, it's not only the kids who are seeing the power of science. Adults also are seeing STEM in a different, attainable way, says Sandy Valdivia, Fleet Youth Engagement Manager. They see that science is all around us and that they can recreate or create STEM activities easily at home. 
Sanchez Cruz notes that accompanying adults were thrilled to see an activity that used the simple materials of plain rice and food coloring. "And they get even more excited when I suggest that they can even substitute materials at home."  
One parent says, "I've already applied some activities to our learning time at home. It's also helpful to get them off the phones."  
This initiative is indeed an ideal combination of DEEP's mission of mobilizing community partners around a research-guided theory of change designed to ensure that children attending schools in a cluster of southeastern San Diego neighborhoods enter kindergarten prepared for success and complete third grade reading proficiently and the Fleet's mission of realizing a San Diego where everyone is connected to the power of science.  
Spring Science for Tots sessions are from April 6 to May 4.
Image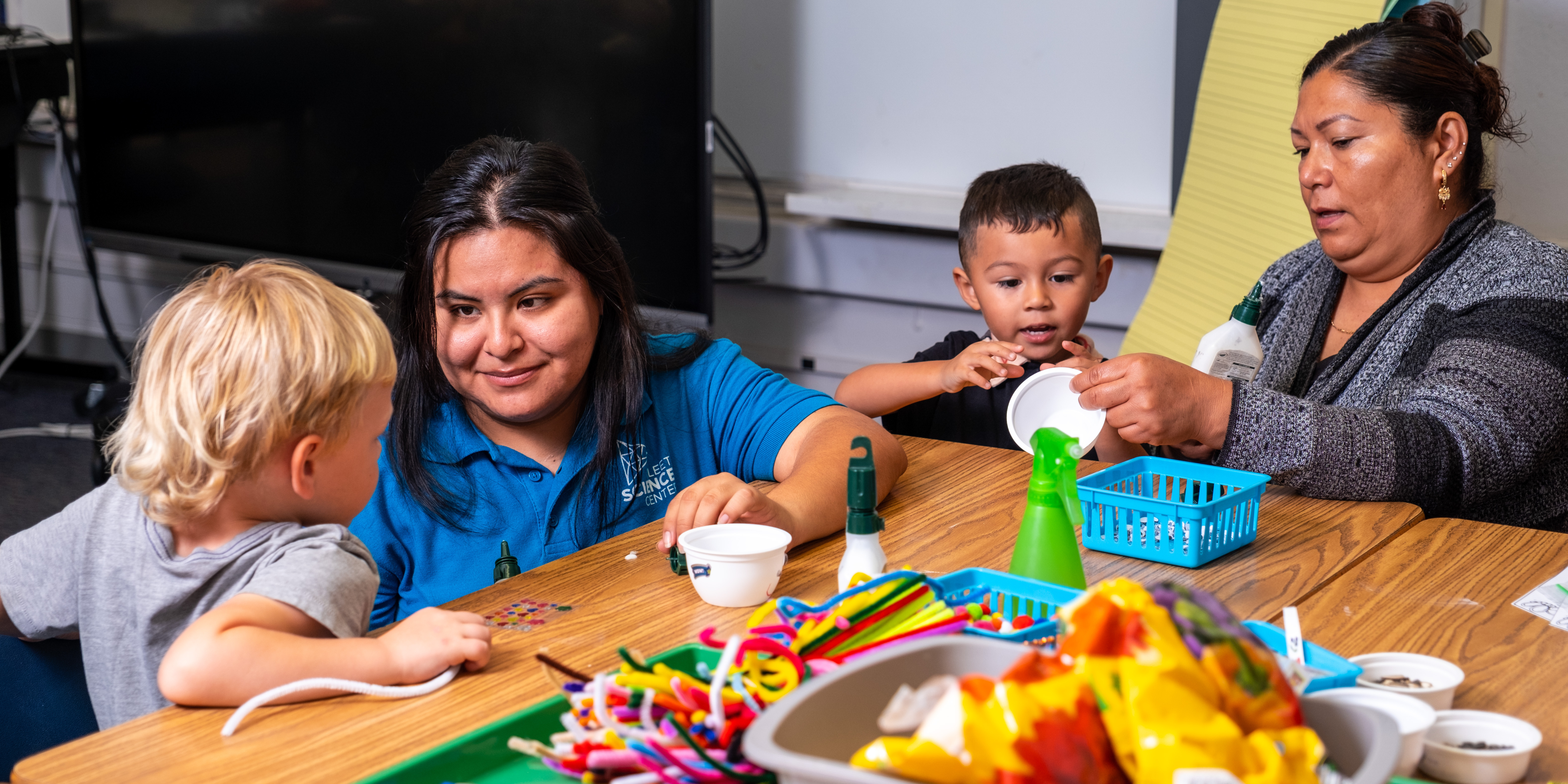 Sanchez Cruz encourages inquiry with Southeastern San Diegans at Encanto Elementary.