Coyote sightings in residential neighborhoods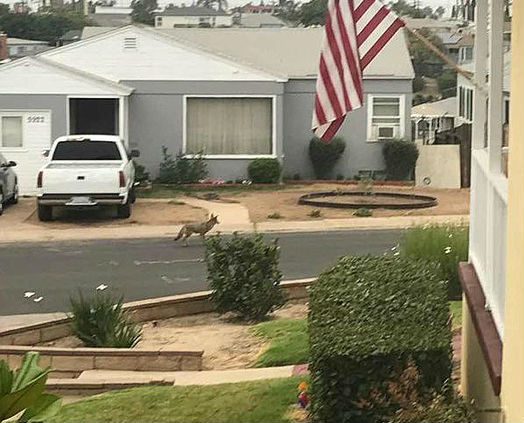 Image: Dustin Kircher, Nextdoor
San Diego residents reported an increase in coyote sightings in suburban neighborhoods in mid-2018. According to University of California's Coyote Cacher database, sightings were made in City Heights and Kearny Mesa in July. Additionally, local news reports and social media platforms like Nextdoor documented sightings as far west as Clairemont.
The San Diego Humane Society, currently operating as animal control in most of San Diego County, claims the following conditions are contributing to the rise in sightings:
The West Fire in Alpine in July 2018 drove coyotes westward.
Increased heat and drought conditions in the summer of 2018 make food and water scarcer.
Where do coyotes fit in an ecosystem and what changes to the ecosystem might account for coyote movement into suburban environments?
Some claim coyote activity is not increasing but instead increased access to technology makes coyote sightings easier to report. Online databases like Coyote Cacher and social media platforms like Nextdoor allow neighbors to share sightings, creating a perception of increased coyote activity. 
For the Classroom:
Claim-Evidence-Reason - Is there an increase in coyote activity in suburban San Diego neighborhoods or has technology created a perception of increased activity? 
Resources:
University of California: Pest Management
University of California: Coyote Cacher
ABC News: Coyote sightings expected to increase during heat and drought, August 2018
NPR, KPBS: Coyote sightings on the rise in San Diego, July 2018
San Diego Union-Tribune: Call of the coyote: living with the urban and suburban coyote, April 2018
NGSS & Grade:
2-LS4, LS4.D: Biodiversity and Humans
5-LS2, LS2.A: Interdependent Relationships in Ecosystems
MS-LS4, LS4.C: Adaptation